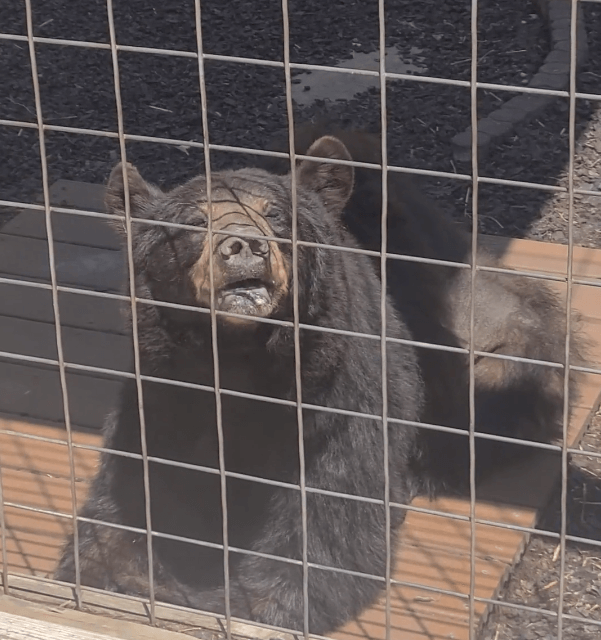 Imagine being denied dental care for a decade by the very people who are meant to protect you and ensure your well-being. For Blackbeary, a 21-year-old female black bear at Pocono Snake & Animal Farm—a roadside zoo in East Stroudsburg, Pennsylvania, with a history of federal Animal Welfare Act (AWA) violations—this nightmare is all too real. PETA helped uncover the extent of the neglect, and after we alerted the U.S. Department of Agriculture (USDA) to Blackbeary's broken tooth with its pulp painfully exposed, the agency stepped in and cited the roadside zoo for failing to meet the minimum requirements of the AWA. The recently released inspection report reveals that the bear gnawed at the bars of her enclosure—likely an indication of dental pain—and that she hadn't received an oral exam in 10 years.
At Pocono Snake & Animal Farm, the USDA observed a 21-year-old female black bear suffering from a fractured canine tooth.
That Blackbeary has gone without a dental exam for a decade means that she might have been in agony for years.
Pocono Snake & Animal Farm: This bear's fractured canine tooth and exposed pulp surely left her in immense pain.
This isn't the first time that PETA and the USDA have done this dance with Pocono Snake & Animal Farm.
In 2016, PETA alerted the USDA to an eyewitness account of a bear who was struggling to walk and a squirrel monkey with a bloody tail and a leg wound who was lying nearly motionless at the roadside zoo. An inspection report shows that the agency subsequently cited the facility for failing to provide the squirrel monkey, two capuchin monkeys, and a potbellied pig suffering from hair loss with adequate veterinary care.
Recent photos of Timmy—a male tufted capuchin monkey—show that he's remarkably thin and still has significant hair loss on his tail and back as well as overgrown nails.
PETA recently documented that Fred and Timmy—the two capuchin monkeys from the 2016 USDA inspection report—continue to suffer from significant hair loss and are extremely underweight, raising alarming questions about their well-being and the adequacy of their care.
Recent photos of Fred—a male brown capuchin monkey being held at Pocono Snake & Animal Farm—show that he's emaciated and still has significant hair loss and overgrown nails.